Ronald Murray Leak
(1911 - 1989)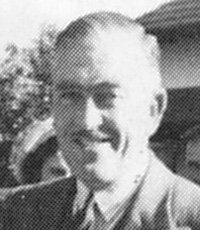 Ron Leak
Life Events
     Ronald Murray
Leak
was born on 30 July 1911 in
North Adelaide, South Australia

, son of
Sydney Arthur

Leak
and
Martha

Logan
.
1
On 7 February 1937, Ronald, aged 25, married
Lelia Joyce

Cummings
, aged 24, daughter of
Joseph Benjamin

Cummings
and
Susan Eliza

Hall
, in Gartrell Memorial Church in
Rose Park, South Australia

.
He died on Wednesday, 10 May 1989, aged 77 years, 9 months and 10 days.
1
Citations
[S2] Birth Registrations, S.A. Births 1907-1928.
Any corrections or additional information about this person, including photos, will be gratefully accepted. If you can help, please contact me by clicking on the "Compiler" name below.