Patrick Cyril McEvoy1
(1918 - 2000)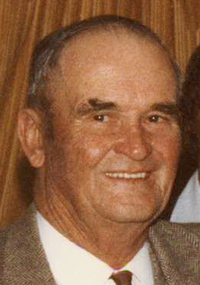 Patrick McEvoy

Life Events
     Patrick Cyril
McEvoy
was born on 23 January 1918 in
Cungena, South Australia

, son of
Edwin Robert Joseph

McEvoy
and
Alice Gallah

Barrett
.
1
He died on Thursday, 6 July 2000, aged 82 years, 5 months and 13 days, in
the Central Eyre Peninsula Hospital, Wudinna, South Australia

.
2,3
Patrick was buried on 11 July 2000 in the
Minnipa Cemetery, Minnipa, South Australia

, in the Catholic section, plot 82, by Father O'Neil.
3
Citations
[S2] Birth Registrations, S.A. Births 1907-1928, page 13A/page 215.
[S57] Steve & Marylin Jones Cemetery transcription, unknown repository, unknown repository address.
[S54] South Australian Councils Cemeteries Search, online http://www.pirie.sa.gov.au/site/page.cfm?u=130
Any corrections or additional information about this person, including photos, will be gratefully accepted. If you can help, please contact me by clicking on the "Compiler" name below.