Alan Arnold Nelson1
(1919 - 1999)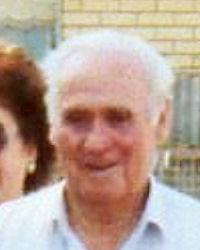 Alan Nelson 1991
Life Events
     Alan Arnold
Nelson
was born on 13 June 1919.
2
Alan, married
Evelyn Mary

McEvoy
, daughter of
Alexander Dennis

McEvoy
and
Myrtle Cicely

North
.
1
He died on Wednesday, 3 March 1999, aged 79 years, 8 months and 18 days, in
Semaphore South, South Australia

,
3
a memorial to Alan can be found at
Enfield Memorial Park, Browning Street, Clearview, South Australia

, in the Campbell Garden, Sub Section: BF, Area: BPD3, Site Number: 4.
3
Any corrections or additional information about this person, including photos, will be gratefully accepted. If you can help, please contact me by clicking on the "Compiler" name below.